Internet Activities
Use a search engine like Altavista, Yahoo, MSN , HotBot or (my favorite) Google to answer these questions. Review my tips for successful searching.
(1) Party Invitation:
Create an invitation to a party at your house using Word or PowerPoint.
Use an Internet map utility like Google Maps to create a map to your house. Copy this map onto your invitation. If you have difficulty copy/pasting, you may have to do a PrintScrn. When your press the PrintScrn button on the keyboard, Windows takes a snapshot of your computer screen at that moment and puts it into the clipboard. Use Fireworks to crop it. (Fireworks, File, New, Paste, Crop).
Make sure to give the Who, When, Where (& Why?) for your party.
You must not write anything on the printout version (don't forget your name).
Print this invite.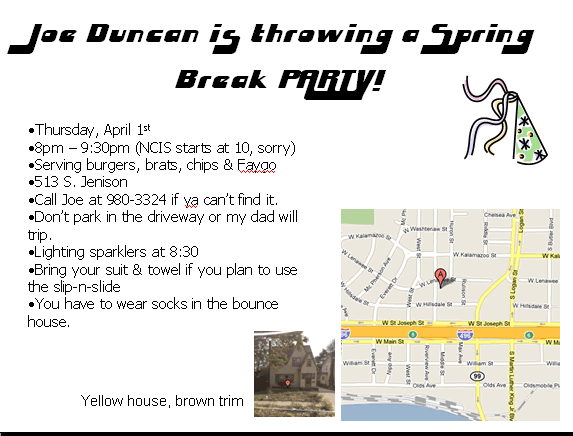 (2) Scavenger Hunt
Use Word to answer these questions.

I want you to copy the URL of the page where you found the information and paste it into your document.

Make your answers a different color from the questions.

For some questions, you only need to list the URL as the answer (question 2 and 3 for example)